I decided I should post this How-to since there appears to be a few of you who don't know how to do it. Those of you who have online galleries such as Flickr or Picassa probably already know to do it, so I won't address that here. But for those who are not quite up to speed with the digital age, and have that picture on your computer as a JPG file already, here's how.
Your picture should be no larger than 500Kb in size. We want to save some bandwidth here.
1. Start by typing any forum text you want in your post.....such as what I have already done here.
2. Move the cursor to where you want your picture to post. Like after this line of text but before the next line. Click on the tree symbol with the arrow button.
This line of text is to come after when I have attached a photo.
By clicking on the button, you will get a pop-up window that allows you to enter your picture's filename. Click on Choose and then a windows explorer window will come up for you to select you file.
Select your file and click Okay.
Once you click okay, another window will pop up telling you to please be patient, though it really doesn't take that long. However, you still have to click Okay for it to send the picture to the forum server.
A line of code that looks like the circled line below will appear. Once you post your message, the picture will appear in its place.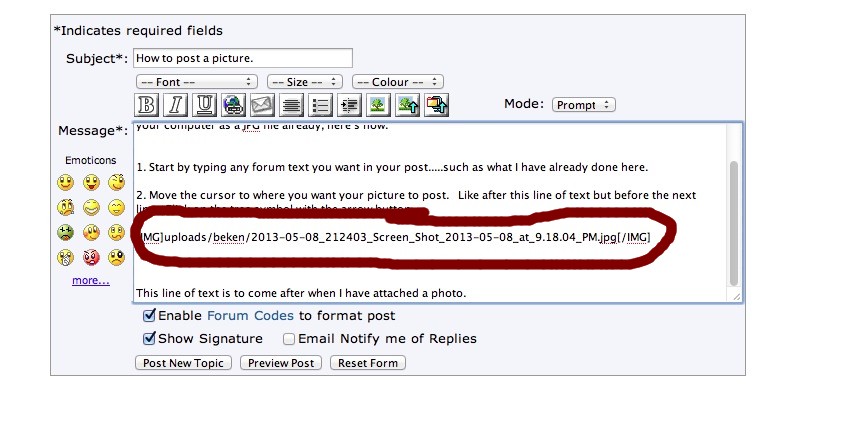 That should do it.
If I left something out or entered an incorrect instruction somewhere, let me know and I will update this post.
Here's something I've not done here before? How do I pin this at the top of the thread?